* Fitment: Perfect for all 4.0L-6.0L engine
* Horse Power: Capable of boosting horse power up to 600+HP. This is a cost-effective turbocharger that will increase the users car's power output by 20-40%.
* Turbine Housing Material: Ductile Iron QT450-10; temperature resistant up to 700℃
* Turbine Impeller Material: K418 Alloy; high oxidation resistance & stability (resistance up to 900℃)
* Cast Aluminium Blades: Great airtight seal, airflow, light weight, and corrosion resistant
* Excellent Design: Durable floating bearing structure & high-precision blade dynamic balance
* 100% Balancing Test: This turbocharger you will receive has been balanced using the VSR machine technology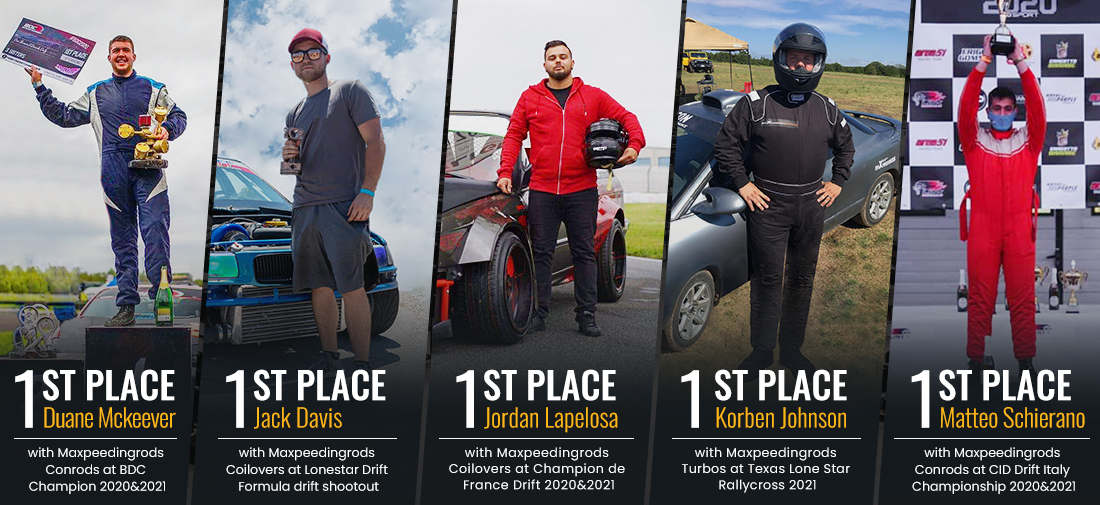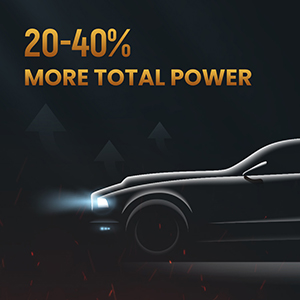 Cost effective turbocharger give your car 20-40% power than a non-turbo car of the same year, make and model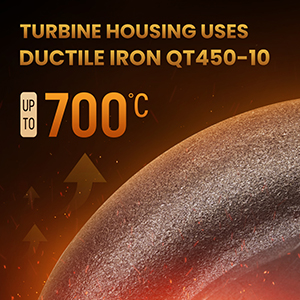 Ductile Iron QT450-10, the material used for the exhaust housing, is temperature resistant up to 700℃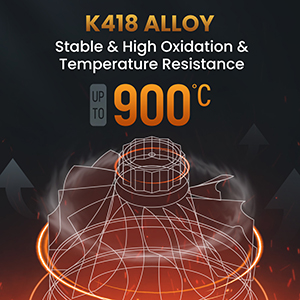 K418 Alloy, the material used for the exhaust impeller, has high oxidation resistance & stability (resistance up to 900℃)
The cast aluminium blades are great airtight seal, airflow, light weight, and corrosion resistant
Description
Are you trying to put together a cost effective turbocharger system for your vehicle? You should know a turbocharged car has about 20-40% more total power than a non-turbo car of the same year, make and model. Well, Maxpeedingrods universal turbocharger got just what you're looking for. Don't hesitate to get a turbo to boost your car's power.
Application
This turbo is a universal application turbo, some modification may be required based on individual vehicle.
Perfect for all 4.0L-6.0L engine
Specification
Exhaust Inlet (Turbo Manifold) Flange: T4 Flange
Exhaust Outlet (Downspout) Flange: 3.25 " V-Band Flange
Compressor Trim: 49.6
Compressor Inducer Diameter: 69 mm
Compressor Exducer Diameter: 98 mm
Compressor Air Inlet Size: 107mm
Compressor Air outlet Size: 86.3mm
Compressor A/R: 0.66
Turbine Trim: 77.6
Turbine Inducer Diameter: 88 mm
Turbine Exducer Diameter: 77.5 mm
Turbine A/R: 1.05
Oil Inlet: M9 & 2*M8*1.25
Oil Outlet: M19 & 2*M8*1.25
Bearing Type: Wet Float
Cooling Type: Oil Cooled
Wastegate: External
Hosepower: Up to 600+HP
Condition: Brand New
Package Size:30x 30x 27 cm
Package Weight: 16400g
Features
*Product Material
1. Turbine housing :Ductile iron QT450-10 - temperature resistant up to 700℃
2. Steel turbine wheel:K418 alloy - high oxidation stability and resistance up to 900℃
3. Compressor housing:ZL104 aluminum with lightweight
4. Compressor wheel/blades:Cast aluminium blades – superior air tightness & corrosion resistance
*Product Performance
1. Cost-effective turbo increase 20-40% power for your car
2. Rich experience in turbo production and own factory
3. Quality assurance
4. High-speed oil seal ring
5. Strict quality inspection
6. Improve emissions & save oil
7. Built for durability and strength
*All necessary gaskets included for ease of installation
Technology Advantage
1. 100% balancing Test by TURBOTECHNICS VSR3
This Turbocharger you will receive has been balanced using the VSR machine technology. Through the comprehensive and high-precision static and dynamic balance detection technology, and reliability.
2. G3-min-Flow VNT Turbo Testing
The G3-min-Flow (Air) machine can accurately measure the flow through the VGT turbo and verify that it is set to the OEM factory setting. easily adjust the critical minimum-flow stop to the correct setting before the turbocharger leaves workshop.
3. Advanced Actuator Tester/Programmer
electronic actuator diagnostic with G3-rea-master can rewrite memory in electronic actuators and also allows to modify operation range of the actuator arm, that includes changing open and close positions of the working angle.
Notice
* Replace, repair or reconnect air cleaner element per manufacturer's manual to avoid compressor wheel damage.
* Make sure the oil drain line is lower than the turbo itself.
* Ensure exhaust outlet are well sealed by welding
* Professional Installation is Highly Recommended, Instruction is NOT Included
* Additional parts will be needed for a complete installation. Please consult professional turbo installer for details.
* Does NOT have a internal wastegate so you must have a external wastegate on your manifold.
Enter your destination to get a shipping estimate.
Installation Instruction
Thanks to the sharing of our friend, the Youtuber FE MEDIA, we get a chance to witness the incisive and detailed install guide of MaXpeedingRods Quality Turbocharger for his vehicle.
Just go and
click here
to view the installation video.