* Fitment: The shock absorbers are compatible for Ford Mustang 2005-2014 (WILL NOT compatible for Shelby GT500 Models)
* High Tensile Strength Performance Spring: 8 kg/mm (448 lbs/in), Rear: 6 kg/mm (336 lbs/in); Tested under a 600,000 time continuous compression test, the spring distortion was less than 0.04%
* Adjustable Performance: Able to lower ride height by 1''-3''
* Twin-Tube Shock Design: Used for low internal frictional resistance in order to increase efficiency and keep shock temps low
* Al6061-T6 Material: Most components of the suspension parts are made from 6061-T6 aluminum to increase strength and rigidity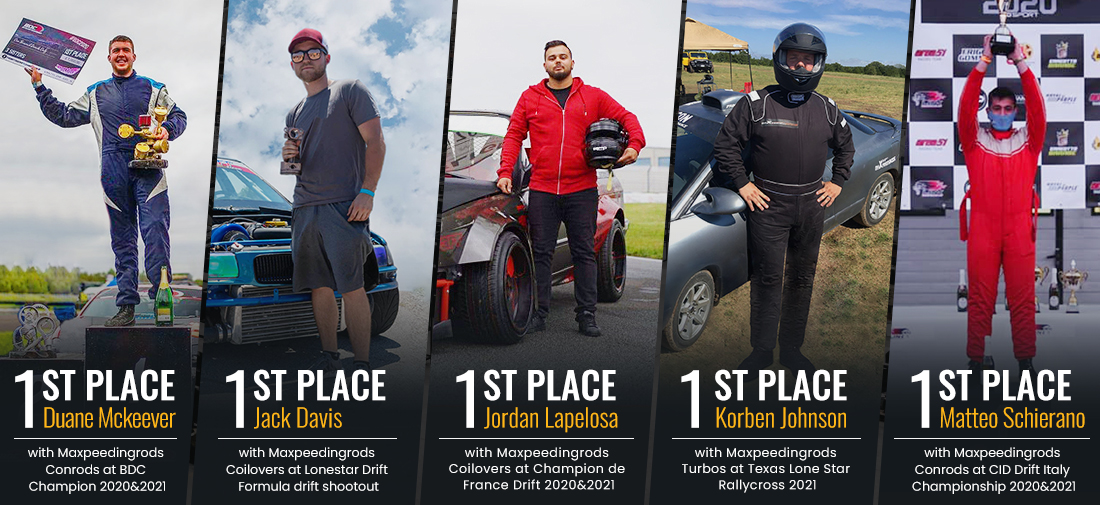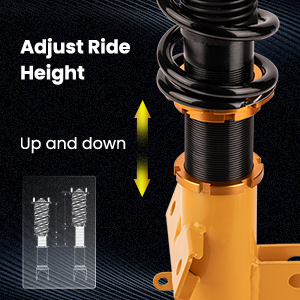 1. Adjustable Height
Able to lower ride height by 1''-3''; allows user to have a more aggressive stance and can adjust without taking coilovers out the car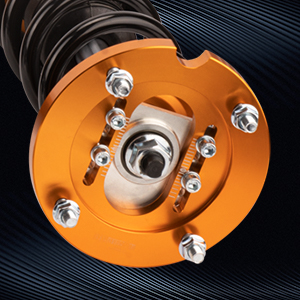 2.High Quality Components
Most components of the suspension parts are made from 6061-T6 aluminum to increase strength and rigidity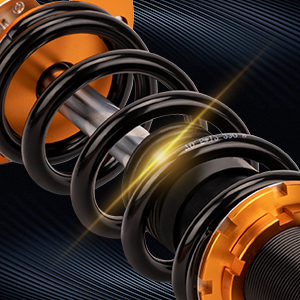 3.High Tensile Strength Spring
Tested under a 600,000 time continuous compression test, the spring distortion was less than 0.04%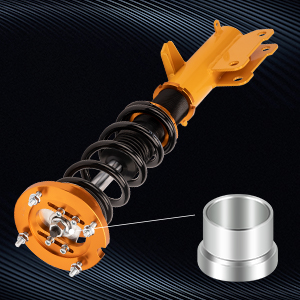 4.Twin-tube Construction
Twin-Tube shock design is used for low internal frictional resistance and dust boot protects damper seal
Introduction
MXR-SNA coilovers are designed as an entry level for street use. It features with full length height adjustable and adjustable camber plates (applicable for some vehicles), which offers you a lowered stance, improved performance for your daily use vehicle.
Application
2005-2014 compatible for Ford Mustang S-197
2005-2014 compatible for Ford Mustang GT S-197
Specification
Top mount: Front camber plate
Front spring rate: 8kg/mm (448 lbs/in)
Rear spring rate: 6kg/mm (336 lbs/in)
Adjustable height: lowering 1-3 inch
Shock type: Twin tube
Spring Preload: 7-10 mm
Color: gold body with black spring
Package included
Front complete coilover assembly
Rear springs and spring adjusters and shocks
A pair of front drop links
A pair wrench for height adjustment
Dimension
Package dimension : 71*51*21
Weight: 27500g
Feature
1.Lowered height adjustment from 1" - 3" which allow lower center of gravity and also add a more aggressive stance.
2.Camber plate top mounts help to eliminate the need for a separate camber kit.
3.Twin-Tube structure allows sufficient stroke within the shock absorber.
4.Complete Suspension Kit of 4 Shock Absorbers & 4 Springs for an easy installation.
5.Separate height adjustment does not affect damper stroke and height can be adjusted with coilovers installed on the vehicle.
6.High Tensile performance spring - STRESS TESTED OVER 600,000 times while the spring distortion is less than 0.04%. Plus the special surface treatment improves the durability and performance.
7.Most pieces in our coilover systems, including mounts, collars and spring perches, are designed from 6061-T6 Billet Aluminum resulting in lightweight, durable and rust resistant components.
8.Steel shock bodies with special surface treatment to improve the durability.
9.Full rebuildable
Note
NOT compatible for Shelby GT500 Models
Enter your destination to get a shipping estimate.