* Fitment: The shock absorbers are compatible For Honda Civic ED 88-91,Compatible for Honda CR-X 88-91,Compatible for Honda Integra DA1 - DA9 90-93
* High Tensile Strength Performance Spring: Front: 8 kg/mm (448 lbs/in), Rear: 5kg/mm(280lbs/in)​; Tested under a 600,000 time continuous compression test, the spring distortion was less than 0.04%
* Adjustable Performance: Able to lower ride height by 1''-3''
* Twin-Tube Shock Design: Used for low internal frictional resistance in order to increase efficiency and keep shock temps low
* Al6061-T6 Material: Most components of the suspension parts are made from 6061-T6 aluminum to increase strength and rigidity
Pay with

to get 10% off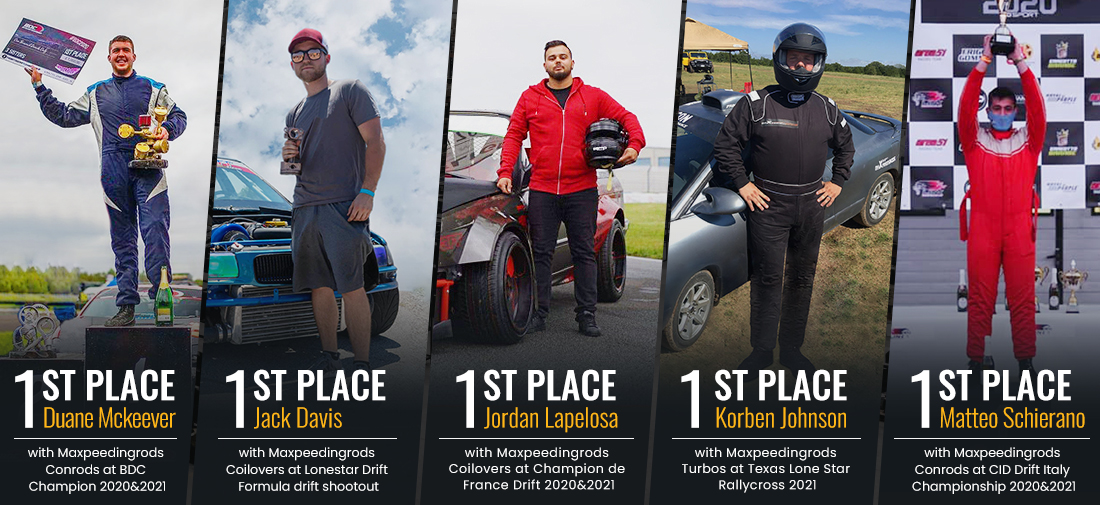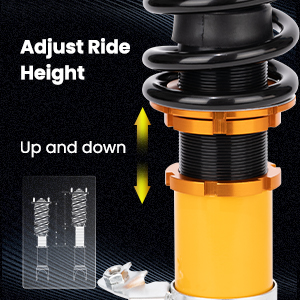 1. Adjustable Height
Able to lower ride height by 1''-3''; allows user to have a more aggressive stance and can adjust without taking coilovers out the car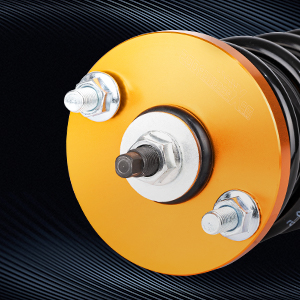 2.High Quality Components
Most components of the suspension parts are made from 6061-T6 aluminum to increase strength and rigidity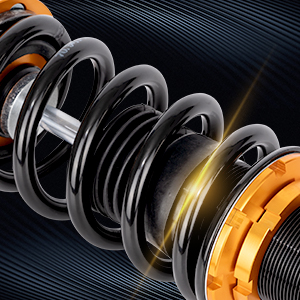 3.High Tensile Strength Spring
Tested under a 600,000 time continuous compression test, the spring distortion was less than 0.04%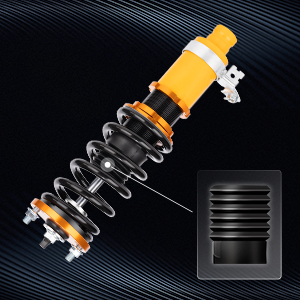 4.Twin-tube Construction
Twin-Tube shock design is used for low internal frictional resistance and dust boot protects damper seal
Application
Compatible For Honda Civic 1988-1991 EC ED EE EF Rear fork type bracket model only (EC8\EC9\ED2\ED3\ED4\ED5\ED6\ED7\EE1\EE2\EE3\EE4\EE5\EE9\EF1\EF2\EF3\EF4\EF5\EF9)
Compatible For Honda CR-X 1988-1991 ED EE EF Rear fork type bracket model only
(ED8\ED9\EE6\EE8\EF6\EF7\EF8)
Compatible For Honda Civic 1992-1995 EG EH EJ Rear fork type bracket model only (EG3\EG4\EG5\EG6\EG7\EG8\EG9\EH1\EH2\EH3\EH4\EH5\EH8\EH9\EJ1\EJ2\EJ3)
Compatible For Honda CR-X del Sol 1992-1995 EG (EG1)
Compatible For Honda Civic 1996-2000 EJ EK EM Rear fork type bracket model only (EJ5\EJ6\EJ7\EJ8\EJ9\EK1\EK2\EK3\EK4\EK5\EK8\EK9\EM1)
Compatible For Acura Integra 1994-2001 DC2 DC4 Rear fork type bracket model only
Note: for some vehiles, you will need sleeves and washers that already included in our package.
Specification
Type: Lowering kit
Height lowering range: 1''-3''
Spring Preload: 7-10 mm
Quantity: Complete set 2 front and 2 rear
Frant and Rear top mount: rubber
Dampening: Non-adjustable dampers
Spring rate front: 8kg/mm (448 lbs/in)
Spring rate rear: 5kg/mm (280 lbs/in)​
Warranty: one year of manufacturing defect
Color: Gloden color
Feature
- Able to lower ride height by 1''-3''; allows user to have a more aggressive stance.
- Pillow ball top mount -- this design helps combat noise while tuning. It also improves the steering feel and response.
- The user can enjoy a comfortable riding experience in all road conditions.
- Twin-Tube Shock design is used for low internal frictional resistance in order to increase efficiency and keep shock temps low.
- Height adjustment does not sacrifice damper stroke length.
- These coilovers are able to have their height adjusted without being taken out of the car.
- High Tensile strength performance spring---Tested under a 600,000 time continuous compression test, the spring distortion was less than 0.04%. Plus, the special surface treatment improves the durability and performance.
- Adjustment tools included in the kit.
Notice

- Please double confirm before placing order.
- No instruction included; Professional installation is highly recommended.
- Please check our store for other auto parts you may be interested in.
- Please contact us for whatever we can help.

Enter your destination to get a shipping estimate.
Warranty Details
We aim to provide you the good buying experience, 30 days return policy is offered in our store. Please follow our return policy before you return any item(s):
If you are unhappy with your purchase for any reason, you can return it to us in an unused condition in the original packaging within 30 days of purchase and we'll give you a refund or exchange. The refund/Exchange will not include postage costs. Please note you MUST contact us to obtain a Return Authorization and Return Address before returning any part. Any parcel without the Return Authorization will be rejected.
If your item is faulty or was incorrect, you must contact our sales representative before returning the parcel and we will endeavour to solve the problem effectively. Video or picture is required to show the item condition before we issue the Return Authorization.
Important Notice
1. Any returned item(s) without Return authorization will be rejected.
2. Please return your item(s) in original packaging and ensure that all packages are securely wrapped
3. We will not accept responsibility for loss or damage of goods during transit, please ensure that the insurance cover option is taken where possible
4. Upon receipt, all products will be inspected at our discretion in 3-5 business days. Then, the updated result will be informed.
If you have made a mistake on purchase and wish to cancel the order before it is dispatched please contact us by email as quickly as possible.
Shipping
1. We will ship your order in one business day once the payment is cleared.
2. Tracking number will be uploaded to your MXR customer account within 24 hours after shipment. Meanwhile, you will get the logistics notification mail.
3. Shipping time usually takes 3-7 business days when products available in local warehouses, and 5-25 business days to International addresses.
4. We only ship the item to PayPal verified shipping address. Please make sure your shipping address is the same as PayPal.