* H-Beam con rods compatible for Datsun 240Z compatible for Nissan Skyline Laurel L24
* Advertised Horsepower Rating: 600~800HP
* Material: Forged 4340 aircraft chrome moly quality steel
* Dimensions: Center to center length: 133mm; Big end diameter: 53mm; Small end diameter: 21mm ( tapered small end); Big end width: 26.8mm; Small end width: 23.9mm
* Package Contents: 6 Pieces of H-Beam Connecting Rods; 12 Pieces of ARP 2000 3/8" Bolts (Note: Extra cost for upgrading to ARP L19 bolts)
* Performance Con Rods
* Advertised RPM Rating: 7000-9000 rpm
* Fastener Tensile Strength (psi):200,000 - 230,000 psi
* Balanced to within +/- 1 gram per end
* The big end bores are honed to a +/-.01mm tolerance
* Heat-treating & Shot-peened for remained consistent and strong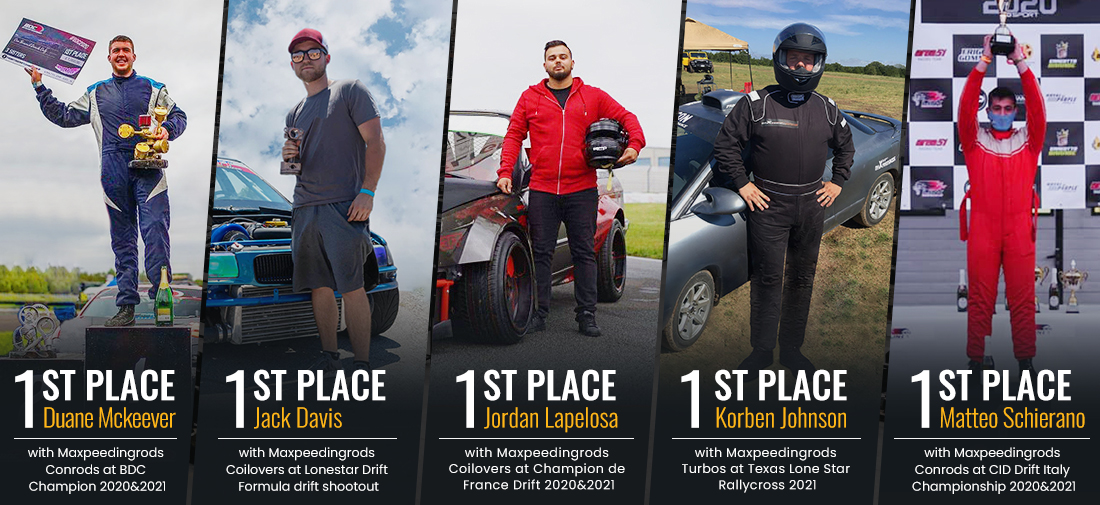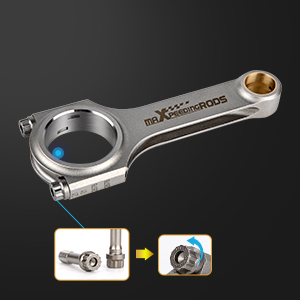 High Quality Components
With Standard ARP 2000 Bolts(Upgradable ARP L19)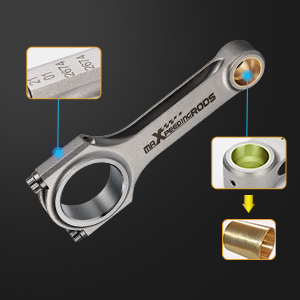 Precision Machining Manufacturing
Shot Peening for improved fatigue life. 100% CNC machined for superior tolerances, Precision rod cap alignment dowels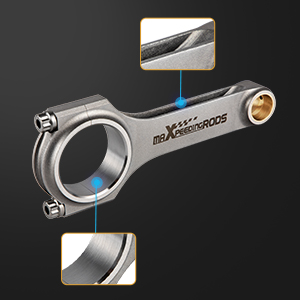 Professional H-Beam Design
Improve stiffness, reduce stress risers and reduce weight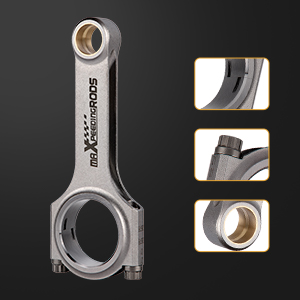 High Performance Material
Forged 4340 aircraft chrome moly quality steel for racing
Description
A connecting rod, also called a con rod, is the part of a piston engine which connects the piston to the crankshaft. Together with the crank, the connecting rod converts the reciprocating motion of the piston into the rotation of the crankshaft. The connecting rod is required to transmit the compressive and tensile forces from the piston, and rotate at both ends.Maxpeedingrods provides connecting rod at the most competitive price and good quality!
Application
Compatible for Datsun 240Z L24
Compatible for Nissan Skyline L24
Compatible for Nissan Laurel L24
Compatible for Nissan Cedric L24
1970–1973 compatible for Datsun 240Z—150 hp
1970–1971 compatible for Nissan Cedric/Gloria 130
1971–1972 compatible for Nissan Cedric/Gloria 230
1972–1977 compatible for Datsun 240K (C110)
1978–1981 compatible for Datsun 240K-GT (C210)
1979–1980 compatible for Nissan Laurel C230
1980–1984 compatible for Nissan Laurel C31 (export)
Specification
Performance Con Rods
Type: Forged 4340 aircraft chrome moly quality steel for racing
H-beam Conrods Quantity: 6 Pieces as showing in picture
Bolts: Including Genuine ARP 2000 bolts
Note: Extra cost for upgrading to ARP L19 bolts
Bolts Size: ARP 2000 3/8" bolts
Tolerance: Balanced to +/- 1 gram in set
Piston Bolt Hole: +-4/1000mm
Power: 600hp ~ 800PS per set
Strength of the fastening (PSI): 220,000/230,000 PSI Torque: 48ft ≈ 65 NM
Top acceleration: 9000rpm
warranty: one year warranty for any manufacturing defect
Dimensions
Center to center length: 133mm
Big end diameter: 53mm
Small end diameter: 21mm
Big end width: 26.8mm
Small end width: 23.9mm
Feature
- Forged SAE 4340 Chrome Moly Steel for the highest strength and durability, dedicated for Racing
- Designed and processed by CNC machine.
- All big and small ends are finished with SUNNEN honing machine
- Precision alignment sleeves positively locate the rod cap, maintaining big end bore size and eliminating cap walk
- 100% X-rayed, sonic tested and magnafluxed
- Multi-stage heat treated
- Shot peened to relieve stress
- Come with the bronzed bushing suitable for the floating piston pin
Note
Professional installation is highly recommended (No Instruction Included)
Custom Service:If there's no conrods you need on our site, we would be happy to help determine your requirements and develop a solution with you to satisfy your needs.
Learn more about CUSTOM SERVICE
Enter your destination to get a shipping estimate.