* Fitment: The shock absorbers are compatible for Toyota Supra MA70 May 1986 – May 1993, compatible for Toyota Supra GA70 May 1986 – 1992, compatible for Toyota Supra JZA70 1990–1993
* High-quality Spring: Front: 14kg/mm (784lbs/in), Rear: 12 kg/mm (672 lbs/in); The spring distortion is less than 0.04% under 600,000 times continuously tests
* Adjustable Performance: Adjustable ride height (lowering 1''-3''); Adjustable pre-load spring tension; 24 ways Adjustable Damper
* Increased Hardness: Most components of the suspension parts are made from 6061 aluminum with T6 for increased strength and rigidity
* Notice: Please confirm your car model, model year and car chassis before purchase the coilover. If you have any question, please feel free to contact us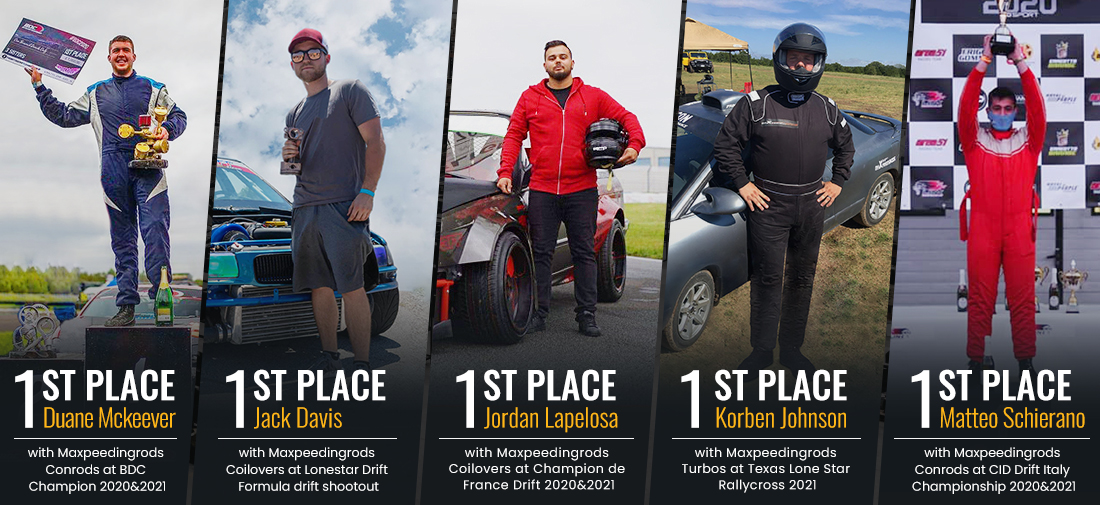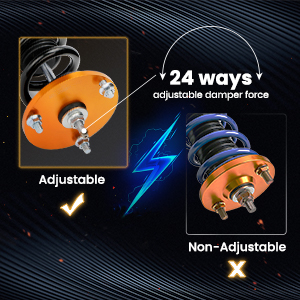 1. Adjustable Damping & Height
Unique 24 levels of damping adjustments ensure the stability of damping performance under various conditions.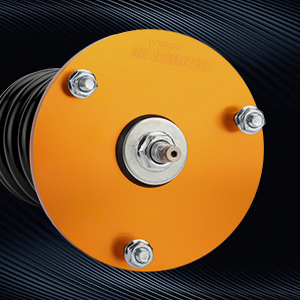 2. High Quality Components
Camber plates and Collars are made from 6061-T6 Billet Aluminum to increase hardness
Pillow ball top mount is designed for improving Steering feel and response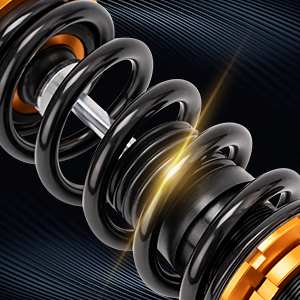 3.Hi-Tensile Performance Spring:
Under 600,000 times continuously test, the spring distortion is less than 0.04%. With the special surface treatment, the spring durability and performance are highly improved .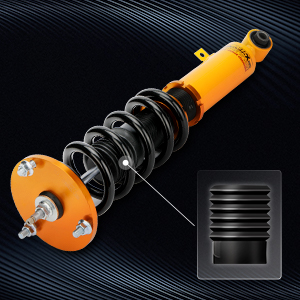 4.Twin-tube Construction eal
Twin-tube shock design reduces oil leakage problems
FA Synthetic Shock Oil increase damper performance
Dust boot protects dampers
Application
Compatible for Toyota Supra MA70 May 1986 – May 1993
Compatible for Toyota Supra GA70May 1986 – 1992
Compatible for Toyota Supra JZA70 1990–1993

Specification
Quantity: 2 pieces front + 2 pieces rear
Spring rate Front: 14 kg/mm (784 lbs/in)
Spring rate Rear: 12 kg/mm (672 lbs/in)
Adjustable Damper: 24 ways adjustable Damper
Adjustable height: Yes
Adjustable camber plate: NO
Color: Golden
Warranty: one year warranty for any manufacturing defect

Feature
- Adjustable ride height
- Adjustable pre-load spring tension
- 24 levels of adjustable damper - This allows you the ability to perfectly dial in your coilovers system. For a nice comfortable driving, set damping to full soft. For more spirited driving, set it to 16 clicks. For occasional track days, set it to full stiff.
- Pillow ball top mount - this design helps combat noise while tuning. It also improves the steering feel and response
- Most components are made from 6061 aluminum with T6 for increased hardness -- the advantages include excellent strength, and aluminum helps keep the weight down.
- Hi Tensile performance spring - Under 600,000 times continuously test, the spring distortion is less than 0.04%. Plus, the special surface treatment is to improve the durability and performance.
- All inserts come with fitted rubber boots to protect the damper and keep clean.
- Improve your handling performance without sacrifice comfortable ride.
- A fast and affordable way to easily upgrade your car's appearance.
- Easy installation with right tools.
- Ideal for any track, drift and fast road and can also be used for daily

Note
No instruction included; Professional installation & alignment suggested.
Please check our store for other auto parts you may be interested in.
Please feel free to contact us for whatever we can help.

Enter your destination to get a shipping estimate.