* Fitment: The shock absorbers are compatible for Toyota Corolla E90 E100 E110 AE92 AE101 AE111 1988-1999
* High Tensile Strength Performance Spring: Front: 8 kg/mm (448 lbs/in), Rear: 6 kg/mm (336 lbs/in); Tested under a 600,000 time continuous compression test, the spring distortion was less than 0.04%
* Adjustable Performance: Able to lower ride height by 1''-3''; 24 ways Adjustable Damper
* Twin-Tube Shock Design: Used for low internal frictional resistance in order to increase efficiency and keep shock temps low
* Al6061-T6 Material: Most components of the suspension parts are made from 6061-T6 aluminum to increase strength and rigidity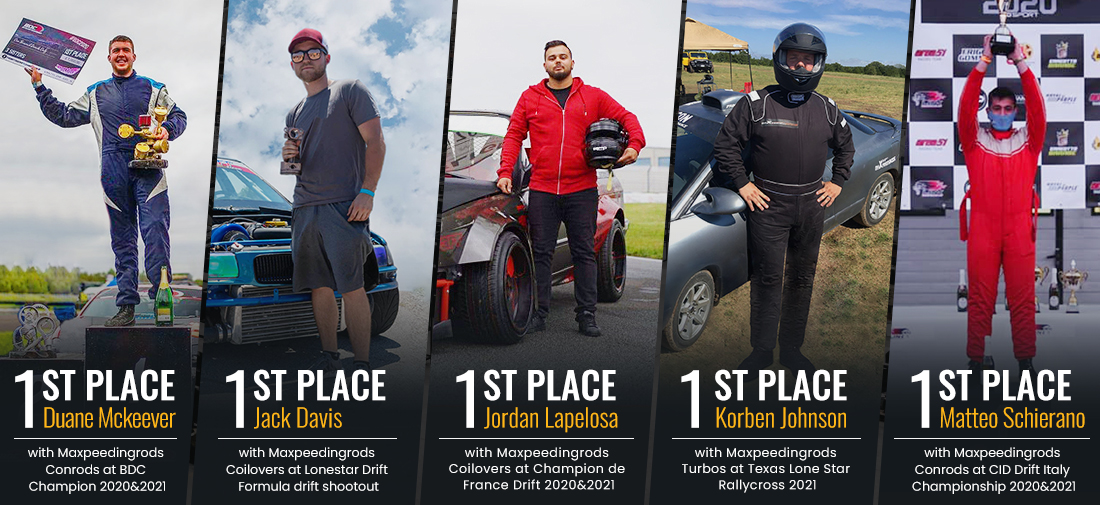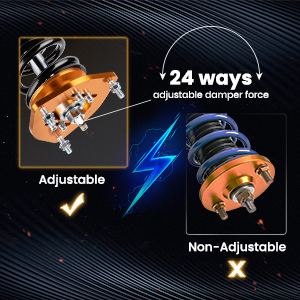 1.Adjustable Damper & Height
24-way adjustable damper force allows the user the ability to dial in your coilovers to any driving needs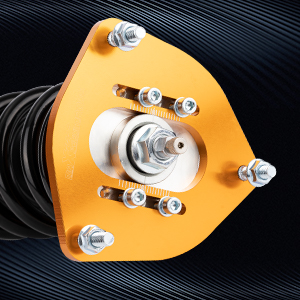 2.High Quality Components
Most components of the suspension parts are made from 6061-T6 aluminum to increase strength and rigidity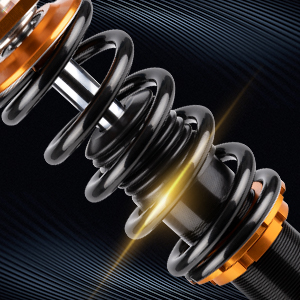 3.High Tensile Strength Spring
Tested under a 600,000 time continuous compression test, the spring distortion was less than 0.04%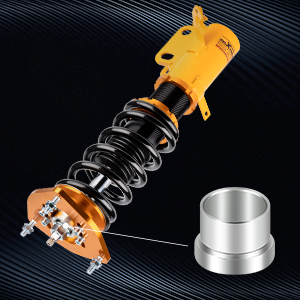 4.Twin-tube Construction
Twin-Tube shock design is used for low internal frictional resistance and dust boot protects damper seal
Application
Compatible for Toyota Corolla E90 E100 E110 AE92 AE101 AE111 1988-1999

Specification
Top mount: Front camber plate;rear pillow ball
Quantity: 4PCS of Coilovers (2 piece front + 2 pieces rear)
Adjustable damper: 24 ways adjustable damper force
Adjustable camber plate: Yes(front only)
Adjustable height: lowering 1-3 inch
Spring rate front: 8 kg/mm (448 lbs/in)
Spring rate rear: 6 kg/mm (336 lbs/in)
Shock type: Twin tube
Spring preload: 7-10 mm
Color: Gloden
Warranty: 1 year warranty for any manufacturing defect
Daily driver, occasional autocross day or occasional track days,equally at home on street and track.
For those seeking a lowered stance as well as improved handling and response at a high value.
Feature
- Able to lower ride height by 1''-3''; allows user to have a more aggressive stance.
- Coilovers are 24-way adjustable. Rebound and Dampening adjustment which allows the user the ability to dial in your coilovers to any driving needs. The user can enjoy a comfortable riding experience in all road conditions.
- Pillow ball top mount --- this design helps combat noise while tuning. It also improves the steering feel and response.
- Twin-Tube Shock design is used for low internal frictional resistance in order to increase efficiency and keep shock temps low.
- Height adjustment does not sacrifice damper stroke length.
- These coilovers are able to have their height adjusted without being taken out of the car.
- High Tensile strength performance spring---Tested under a 600,000 time continuous compression test, the spring distortion was less than 0.04%. Plus, the special surface treatment improves the durability and performance.
- Adjustment tools included in the kit.
Note
- No instruction included; Professional installation & alignment suggested.
- Please check our store for other auto parts you may be interested in.
- Please feel free to contact us for whatever we can help.

Enter your destination to get a shipping estimate.