* Fitment: Compatible for BMW 3-Series(E90/E91)(RWD) 2006-2013
* High Tensile Strength Performance Spring: Front:10kg/mm (560 lbs/in); Rear: 8 kg/mm (448 lbs/in); Tested under a 600,000 time continuous compression test, the spring distortion was less than 0.04%
* Adjustable Performance: Able to lower ride height by 1''-3''
* Twin-Tube Shock Design: Used for low internal frictional resistance in order to increase efficiency and keep shock temps low
* Al6061-T6 Material: Most components of the suspension parts are made from 6061-T6 aluminum to increase strength and rigidity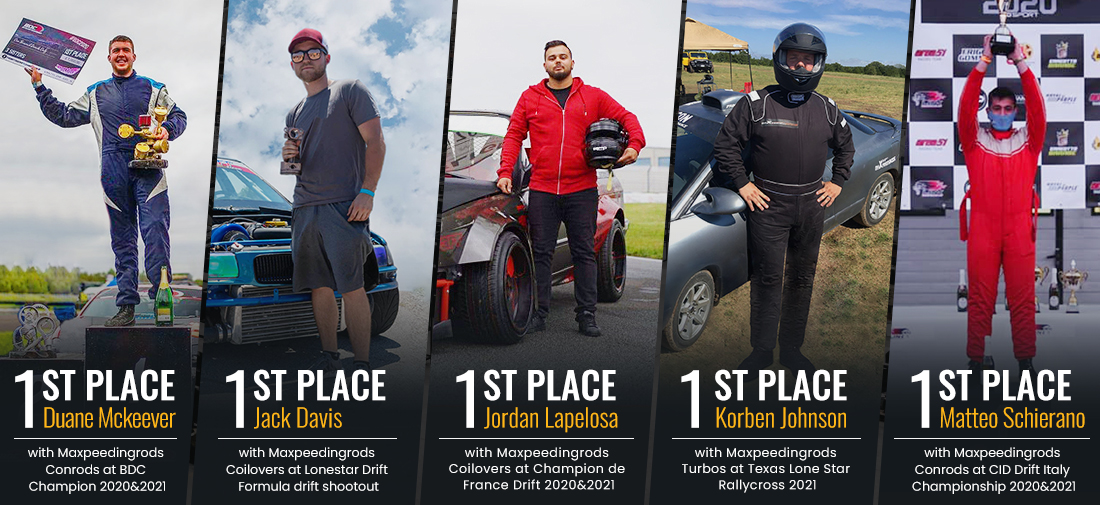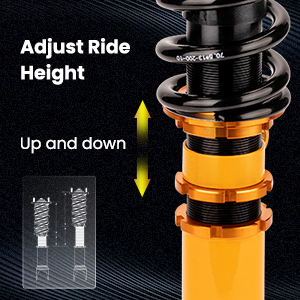 1. Adjustable Height
Able to lower ride height by 1''-3''; allows user to have a more aggressive stance and can adjust without taking coilovers out the car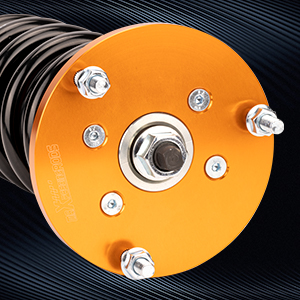 2.High Quality Components
Most components of the suspension parts are made from 6061-T6 aluminum to increase strength and rigidity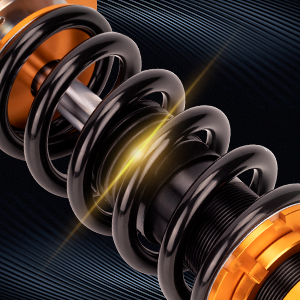 3.High Tensile Strength Spring
Tested under a 600,000 time continuous compression test, the spring distortion was less than 0.04%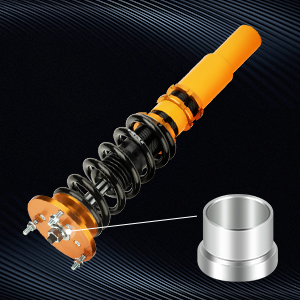 4.Twin-tube Construction
Twin-Tube shock design is used for low internal frictional resistance and dust boot protects damper seal
Application
Compatible For BMW 3 (E90) (2004-2011) 316i, 318i, 320i, 323i, 325i, 328i, 330i, 335i, 316d, 318d, 320d, 325d, 330d, 335d.
Compatible For BMW 3 Touring (E91) (2004-2012) 316i, 318i, 320i, 323i, 325i, 328i, 330i, 335i, 316d, 320d, 325d, 330d, 335d.
Note:
1) This product fit RWD vehicle only!
2) We suggest adding washers to avoid the engine bar and drilling the front OE shock top mount upper part a little bigger to a diameter of 12mm.
Specification
Top mounts: front - pillow ball top mounts
rear - OE top mounts required
Quantity:Complete coilovers for 2 front and 2 rear
a pair wrench for height adjustment
Spring rate Front:10kg/mm(560 lbs/in)
Spring rate Rear:8 kg/mm (448 lbs/in)
Damper:Non adjustable damper
Adjustable height: Yes, lowering 1" to 3"
Shock type: Twin tube
Spring Preload: 7-10 mm
Color: Golden
Warranty: 1 year warranty for any manufacturing defect
Feature
- Able to lower ride height by 1''-3''; allows user to have a more aggressive stance.
- Pillow ball top mount -- this design helps combat noise while tuning. It also improves the steering feel and response.
- The user can enjoy a comfortable riding experience in all road conditions.
- Twin-Tube Shock design is used for low internal frictional resistance in order to increase efficiency and keep shock temps low.
- Height adjustment does not sacrifice damper stroke length.
- These coilovers are able to have their height adjusted without being taken out of the car.
- High Tensile strength performance spring---Tested under a 600,000 time continuous compression test, the spring distortion was less than 0.04%. Plus, the special surface treatment improves the durability and performance.
- Adjustment tools included in the kit.
Note
* No instruction included; Professional installation alignment suggested.
* Please check our store for other auto parts you may be interested in.
* Please contact us for whatever we can help.

Enter your destination to get a shipping estimate.