* Fitment: The shock absorbers are compatible for Hyundai Veloster FS G4FD G4FJ 1.6L 2013-2015
* High-quality Spring: Front: 8 kg/mm (448 in/lbs), Rear: 6 kg/mm (336 in/lbs); The spring distortion is less than 0.04% under 600,000 times continuously tests
* Adjustable Performance: Adjustable ride height (lowering 1''-3''); Adjustable pre-load spring tension;
* Increased Hardness: Most components of the suspension parts are made from 6061 aluminum with T6 for increased strength and rigidity
* Pillow ball top mount: Pillow ball bearing top mounts for camber adjustment are designed to combat noise while tuning and offer greater feed back
* Notice: Please confirm your car model, model year and car chassis before purchase the coilover. If you have any question, please feel free to contact us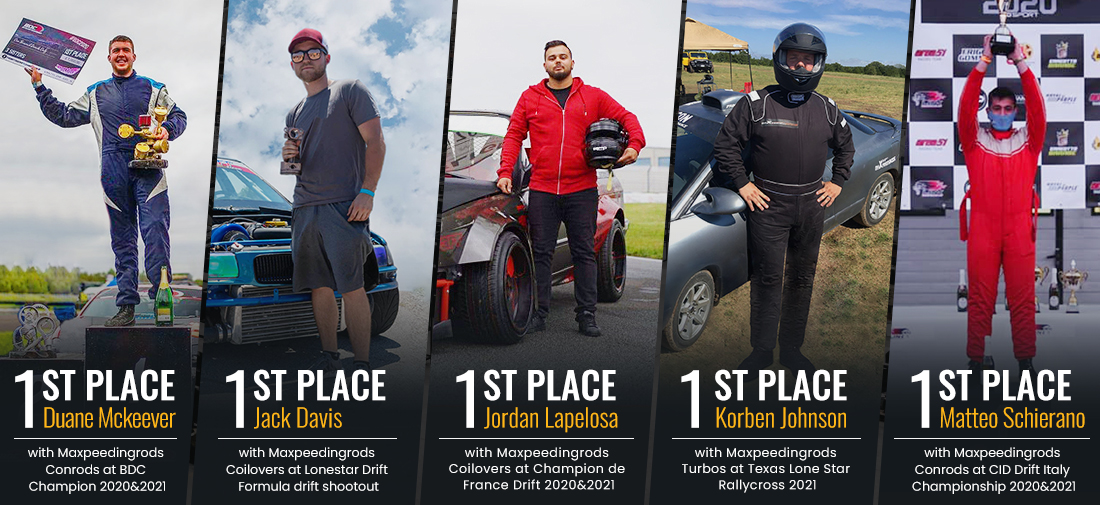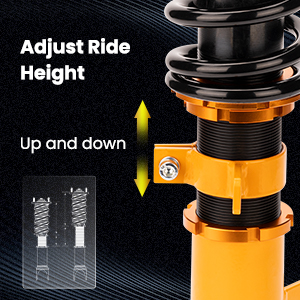 1. Adjustable Height
Allowing you adjust the whole coilovers to your favorite ride heigt.
Adjustable lower mount allows maximum suspension travel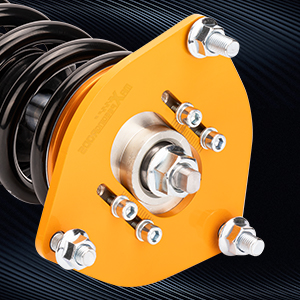 2. High Quality Components
Camber plates and Collars are made from 6061-T6 Billet Aluminum to increase hardness
Pillow ball top mount is designed for improving Steering feel and response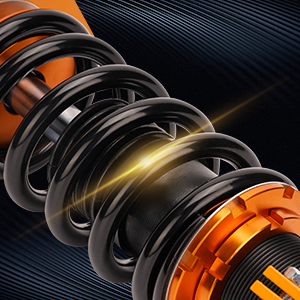 3.Hi-Tensile Performance Spring
Under 600,000 times continuously test, the spring distortion is less than 0.04%. With the special surface treatment, the spring durability and performance are highly improved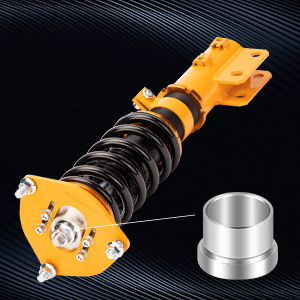 4.Twin-tube Constructioneal
Dust boot protects damper seal
Twin-tube shock design reduces oil leakage problems
FA Synthetic Shock Oil increase damper performance
Introduction
MXR-B2 series(also called MXR-SNA) coilovers are designed as an entry level for street use. It features with full length height adjustable and adjustable camber plates (applicable for some vehicles), which offers you a lowered stance, improved performance for your daily use vehicle.
Application
Compatible for Hyundai Veloster (FS) 2013-2015
Specification
Top mounts: front pillow ball top mount with camber plate
rear no top mounts included
Damping: not available
Spring rate: front 8kg/mm rear 6kg/mm
Adjustable height: Yes lowering 1" to 3"
Shock type: Twin tube
Spring Preload: 7-10 mm
Color: gold
Package included
complete coilovers 2 front and 2 rear
a pair wrench for height adjustment
Dimension
weight: 25280g
size: 63*51*21 cm
Feature
1. Lowered height adjustment from 1" - 3" which allow lower center of gravity and also add a more aggressive stance
2. Twin-Tube structure allows sufficient stroke within the shock absorber.
3. Separate height adjustment does not affect damper stroke.
4. High Tensile performance spring - STRESS TESTED OVER 600,000 times while the spring distortion is less than 0.04%. Plus, the special surface treatment improves the durability and performance.
5. Height Adjustment tools included.
6. Camber plate top mounts help to eliminate the need for a separate camber kit.
7. Pillow ball top mount - It improves the steering feel and response.
8. Most pieces in our coilover systems, including mounts, collars and spring perches, are designed from 6061-T6 Billet Aluminum resulting in lightweight, durable and rust resistant components.
9. Full rebuildable.
Warranty: one year warranty for any manufacturing defect
Enter your destination to get a shipping estimate.