* H-Beam con rods compatible for Audi A4 A6 RS4 Quattro 2.7T
* Performance Con Rods Advertised Horsepower Rating: 800HP
* Material: Forged 4340 aircraft chrome moly quality steel
* Dimensions: Center to center length: 154mm; Big end diameter: 56.8mm; Small end diameter: 21.01mm; Big end width: 20.12mm; Small end width: 21.92mm
* Package Contents: 6 Pieces of H-Beam Connecting Rods; 12 Pieces of ARP 2000 5/16" Bolts (Note: Extra cost for upgrading to ARP L19 bolts)
* Performance Con Rods
* Advertised RPM Rating: 7000-9000 rpm
* Fastener Tensile Strength (psi):200,000 - 220,000 psi
* Balanced to within +/- 1 gram per end
* The big end bores are honed to a +/-.01mm tolerance
* Heat-treating & Shot-peened for remained consistent and strong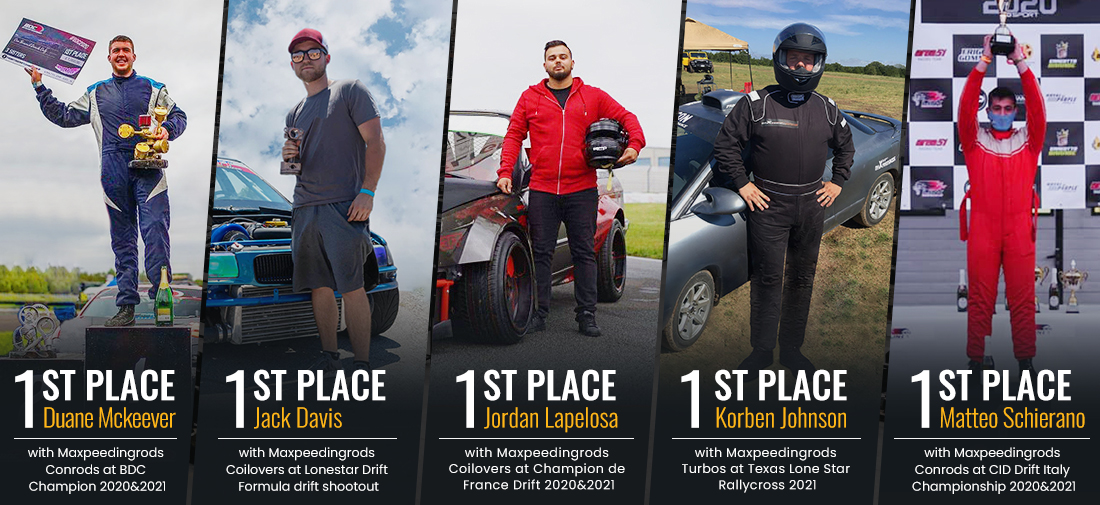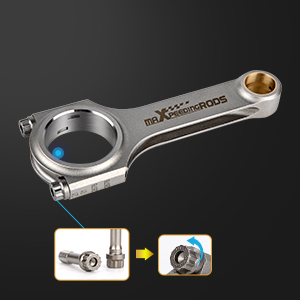 High Quality Components
With Standard ARP 2000 Bolts (Upgradable ARP L19)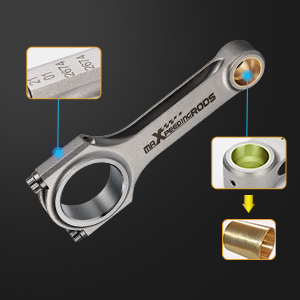 Precision Machining Manufacturing
Shot Peening for improved fatigue life. 100% CNC machined for superior tolerances,Precision rod cap alignment dowels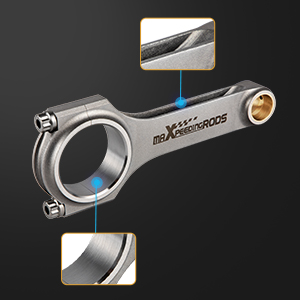 Professional H-Beam Design
Improve stiffness, reduce stress risers and reduce weight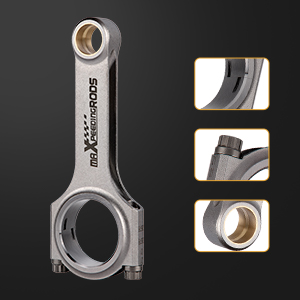 High Performance Material
Forged 4340 aircraft chrome moly quality steel for racing.Advertised Horsepower Rating:800HP
Application
Compatible for Audi A4 RS4 V6 Quattro
Compatible for the compatible for Audi RS4 B5 AZR/ASJ
Note: Please confirm the dimensions before purchasing the connecting Rods
Note the Big end diameter:56.8mm/2.236in
Specification
Type: Forged 4340 aircraft chrome moly quality steel for racing
H-beam Conrods Quantity: 6 Pieces as showing in picture
Bolts: Including ARP 2000 bolts
Note: Extra cost for upgrading to ARP L19 bolts
Bolts Size: Genuine ARP 2000 5/16" bolts
Tolerance: Balanced to +/- 1 gram in set
Piston Bolt Hole: +-4/1000mm
Power: Advertised Horsepower Rating:200HP/piece
Strength of the fastening (PSI): 220,000/230,000 PSI Torque: 48ft ≈ 65 NM
Top acceleration: 9000rpm
warranty: one year warranty for any manufacturing defect
Dimensions
Center to center length: 154mm/6.063in
Big end diameter:56.8mm/2.236in
Small end diameter:21mm/0.827in
Big end width:20.1mm/0.791in
Small end width: 21.9mm/0.862in
Feature
1. TüV Certification Con Rods;
2. Material: Forged SAE 4340 Chrome Moly Steel for the highest strength and durability, dedicated for Racing;
3. Genuine ARP 2000 bolts,Optional ARP L19 fasteners available as an upgrade;
4. H-Beam design reduces weight without compromising strength;
5. Heat-treating & Shot-peened for remained consistent and strong. Shot-peened finish to remove the potential for stress risers;
6.100% CNC machined, Precision rod cap alignment dowels;
7. Bores finished to +/- .01 mm;
8. Balanced to within +/- 1 g per rod;
9. Each rod is magnetic particle tested to ensure free of flaws;
10.100% X-rayed, sonic tested;
11. Custom Service.
Note
Professional installation is highly recommended (No Instruction Included)
Custom Service:If there's no conrods you need on our site, we would be happy to help determine your requirements and develop a solution with you to satisfy your needs.
Learn more about CUSTOM SERVICE
Enter your destination to get a shipping estimate.