Air Suspension Buyer's Guide
Buying air suspension for your car can sometimes be a daunting and confusing task. At maxpeedingrods.com, it is our mission to make that task as an easy and painless as possible. This Buyer's Guide is designed to answer any questions you may have during your search for the right air suspension for your car, and how to buy an air suspension on our website.
What is air suspension?
Air suspension is a type of vehicle suspension powered by an electric or engine-driven air pump or compressor. This compressor pumps the air into a flexible bellows, usually made from textile-reinforced rubber. The air pressure inflates the bellows, and raises the chassis from the axle. The types of Air Suspension are as follows:
• Double-convoluted Air Suspension
These kinds of suspensions are mostly used in front-suspension automobiles. These suspension systems can withstand more weight compared to other suspensions and are therefore generally employed in heavy-duty vehicles. The suspension is so called since the two air bags are connected by a short stroke and the design looks similar to an hourglass.
• Tapered Sleeve Air Suspension
Tapered sleeve air suspensions are used in vehicles which have a rear suspension and call for a smoother ride, like luxury automobiles. These systems are conical and provide a greater adjustment on the ride height.
• Rolling Sleeve Air Suspension
These types of air suspension system are used in vehicles with rear suspension. They are employed in automobiles that require a finer handling like sports automobiles.
How does air suspension work?
Air suspension systems essentially replace a vehicle's coil springs with air springs. The air springs are simply tough rubber and plastic bags inflated to a certain pressure and height to mimic the coil springs. But the similarities end there. By adding in an on-board air compressor, sensors and electronic controls, today's air suspension systems provide several advantages over all-metal, conventional springs, including near-instant tuning, and the ability to adapt handling to different situations and vary load capability.
Whether the system is manual or electronic, or installed by a weekend mechanic or a seasoned tech, air suspension can lower a car to improve its street credibility, even out a heavy payload, or simply improve the ride of a vintage Detroit metal street monster.
How to buy air suspension?
Selecting an air suspension is never an easy thing unless you get to know these things nicely.
You can find your specific air suspension part by entering your vehicle's year, make and model, if for any reason you cannot, you can find it by the part's Original Equipment Manufacturer (OEM) number. The OEM part number can be found directly on the part itself. You can also call a dealership with your VIN, and they will provide you with the OEM part number. You can contact one of our car specialists through our website for further assistance in purchasing your air suspension parts.
Why buy air suspension at MaXpeedingRods?
MaXpeedingRods has been engaged in the research of overseas racing products and culture for decades. If you are looking for air suspension, you have landed at the right place. On the basis of your vehicle make and model, you can choose from a plethora of automotive maintenance and accessories. MaXpeedingRods offers a seamless online shopping experience and the streamlined e-commerce interface makes it easy for you to find just the air suspension you want.
MaXpeedingRods offers a variety of air suspensions with high quality.
Features:
• Guaranteed Exact Fit for easy installation
• 100% BRAND NEW, not a used, rebuilt, or junkyard part! Tested to meet or exceed OEM specifications
• Premium quality- guaranteed highest quality available
• Engineered for superior durability, backed by industry leading warranty
• Direct fit replacement with no modifications needed
• Features a new continental air bladder
• Part comes with a full 2 year warranty for any manufacture defect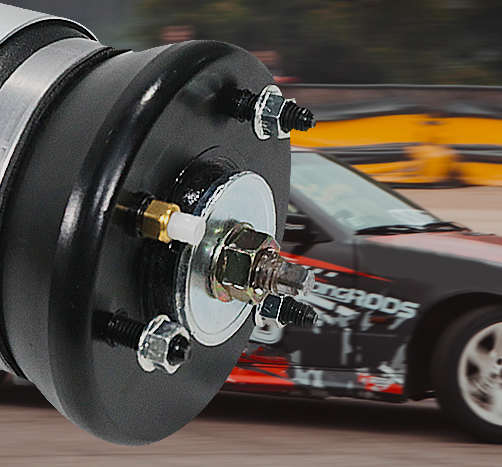 How do I know when my air suspension need to be replaced?
Whether you drive with an air suspension or a coilover, all suspension systems wear down with time, causing an array of performance issues. However, knowing when your suspension needs to be repaired can help to prevent that.
Knowing when your suspension needs to be fixed allows you to provide the automotive care it needs to avoid excessive damage. So to help preserve the life and performance of your vehicle, we've listed the top five signs that your suspension needs to be repaired.
• Rough Performance
A vehicle's suspension is responsible for absorbing the energy from bumps and dips when traveling. With time, each suspension part will wear down and no longer be able to cushion the energy. This causes a bumpier ride.
A rough ride is a telltale sign of suspension trouble, but you won't be able to diagnose the exact problem just by looking at your vehicle's performance. So take your car to a trusted repair shop as soon as you start to notice more bumps so they can repair the issue in your suspension.
• Bouncy Ride
You may notice your car bouncing more than usual when your suspension needs to be repaired. Excessive bouncing is caused by worn-out shocks. You'll usually notice your car bouncing when driving over bumps or even tiny dips in the road.
You can also perform a bounce test to see if your suspension needs to be repaired. All you have to do is lean down on the hood of your car a couple of times when it's in park. If you see that it's still moving after three or four bounces, get your suspension repaired.
• Lowered Stance
brochure-sideThe suspension works to maintain a vehicle's ride height at all times. So if you notice your vehicle is sitting lower than usual, your suspension may be to blame.
Usually, a vehicle will start to ride low when there's a problem with the coil or air bag or compressor. Cars with coilover suspensions will experience this issue when the coils are no longer able to support the weight of the vehicle. Those with air suspensions will start to sag when there's an issue with their air bag or air compressor.
• Drifting and Pulling
When the shocks in your air suspension system begin to deteriorate, you'll notice your car drifting and pulling more especially when turning because the shocks can't keep the vehicle level or stable.
Damaged and worn shocks can make your car more susceptible to rollovers. With that said, it's critical to have your suspension repaired immediately if you find your car drifting and pulling when turning to ensure your safety.
• Uneven Tire Wear
Uneven tire wear is caused by a variety of issues, including your suspension system. When your suspension can no longer support your car, the weight of the vehicle starts to bear down on your wheels and tires, causing excessive and uneven tread wear.
Uneven treads on tires can lead to decreased traction. So check the tread depth of your tires every so often, and if it's getting too low too fast, get your suspension checked out and repaired.
No matter what type of suspension is in your car, it's important to make sure that you know when it's having problems and when it needs to get fixed. So consult this guide to understand when your suspension system should be repaired.
NEED A NEW Air Suspension ?
Find a nice Air Suspension on MaXpeedingRods.
SHOP NOW


How to install air suspension in a car
Installing suspension kits, especially an on board air system, is a fairly complex operation. The process varies greatly by the vehicle, suspension type and brand you're installing. So, any instruction given here is only going to be a quick overview. For detailed instructions, check your kit manufacturer's instructions. That said, though it can be complex, installing a suspension air bags kit can certainly be done by anyone handy with tools.
First, you need to determine the type of kit you need. Air shocks and suspension are used in lowering kits designed for your sport compact or even family sedan. They're also used in lift kits for your off-road or show truck. But the most popular use of air springs is for towing and hauling.
The basic installation entails replacing the factory shocks with air shocks. Once these are in place, you need to install an onboard control system as well as an onboard air tank. This gives you the air it takes to add or release air from the suspension for the adjustments.
The control system is really the most complicated part of the air suspension. There are near infinite configurations and control modes, from in-cab digital systems to the old-fashioned way of actually pumping up the shock with an air pump. Once you find the system that fits your needs and your budget, get it, install it and start riding on air!